Our Perspective
Our consultants have a range of experience in cyber operations, risk management, and software architecture development in the intelligence community, government, academia, and the private sector.
Stemming from rigorous research conducted at the University of Maryland, our award winning approach has been integrated into our Tapestry tool, which converts technical attack scenarios into meaningful insights about potential impact to business processes.
CEO & Co-founder, Dr. Charles Harry, is a senior leader, practitioner, and researcher with over 20 years of experience in intelligence and cyber operations. Dr. Harry is an international expert in assessing and visualizing cybersecurity risk in complex systems. He leverages a deep understanding of adversarial tactics used to compromise and impact business operations to map and present integrated cybersecurity risk. Dr. Harry is also a research professor at the University of Maryland, College Park and holds affiliate status with Pacific Northwest Laboratory (PNNL), and sits on the U.S. Chamber of Commerce's Cyber Advisory Panel. He has supported national decision makers and has presented to foreign leaders on a variety of international security topics. His public service includes a 14-year career with the National Security Agency, where he rose to the rank of senior technical leader (DISL). Dr. Harry has supported senior policy makers at the White House and has regularly appeared before congressional committees to provide testimony. He is the recipient of the Director of National Intelligence Extraordinary Achievement Medal and the Signal Intelligence Career Achievement Medal.
---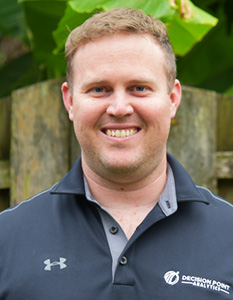 CTO & Co-founder, Trevor Tart is a senior software engineer with over 12 years of experience architecting and implementing large-scale enterprise applications with a strong focus on cyber-security. He has engineered solutions across the Department of Defense, Intelligence Community, and in the private sector.
---
Partner, Dan Ennis serves as a senior advisor to Decision Point Analytics. Dan has deep experience in cybersecurity operations and threat intelligence and has experience in the public and private sector and currently serves as CEO for DRE Consulting and as a senior advisor for Blue Voyant. Dan leverages over 36 years of U.S. government service, principally with the National Security Agency (NSA) Central Security Service. Prior to his retirement from the NSA, Ennis served as director of its Threat Operations Center (NTOC), responsible for round-the-clock cryptologic activities to detect and counter cyber threats to U.S. national security systems and other important networks, while protecting the legal rights of U.S. persons. Ennis' career with the U.S. government began in 1979 at the Drug Enforcement Administration.
He joined NSA in 1982 and held numerous senior-level positions, primarily within the Signals Intelligence Directorate. Prior to becoming the NTOC director, Ennis served as assistant deputy director of analysis and production, providing overall management of the U.S. signals intelligence analysis and production mission. Other senior positions held included chief of NSA Tailored Access Operations, chief of Transnational Targets (counter terrorism, counter proliferation, counter intelligence, narcotics and serious crimes, and weapons and space) and chief of the Office of Russia.
---

Senior Advisor, Pete Tseronis, the founder of Dots and Bridges, is motivated to engender thought-provoking dialogue addressing how Technology, Humanity, and Culture intersect. Utilizing the power of Storytelling and Translation, he highlights individual passion, feature technological innovation, and convey societal impact.
An accomplished entrepreneur, business executive, and cybersecurity strategist with 28+ years at the White House, and Departments of Energy and Education serving across 4 different administrations. Pete maintains a passion for collaborating with government, industry, investor, and academic ecosystems to unearth and stimulate transformative innovation while increasing private-sector commercialization. Pete was recognized as one of the "10 Most Influential CEOs To Watch In 2021."
Pete is also the Chairperson for the Utility Supercluster Chairperson leading the establishment and demonstration of replicable, scalable, and sustainable models for incubation and deployment of interoperable, secure, standards-based solutions intended to modernize digital, physical and social infrastructure and, thus, make delivery and use of public, private and hybrid services more efficient, cost effective and socially beneficial.
---
Consultants at Decision Point Analytics have a depth of knowledge in cloud computing platforms, technical pen testing, red team analysis, and business operations. We combine technical expertise and understanding of business operations to provide unique insight into the cyber challenge confronting modern organizations.